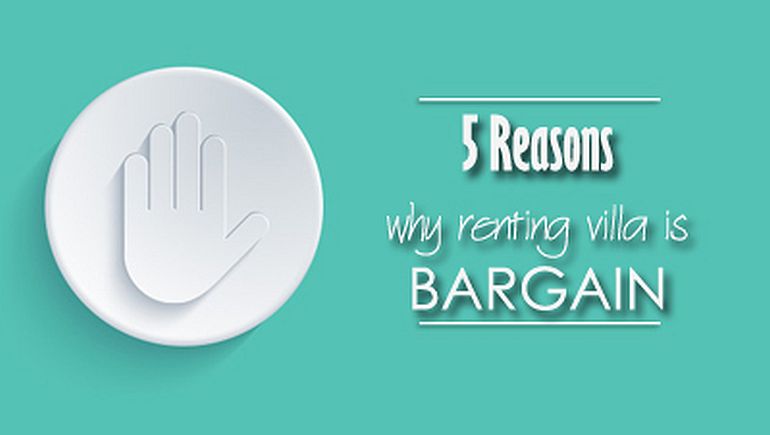 5 Reasons Why Renting a Villa is a Bargain
When you think of villas, images of grand entrances and perhaps even royalty come to mind. But today's villas are not only for the elite. In fact, many of the most elegant villas can be had for a bargain.
And when you start comparing to hotels, villas become even more attractive and of course renting villa is a great idea. Here are five good reasons why villas can save you money over your typical hotel vacation.
Why Renting Villa:
Room prices. A three bedroom villa or three hotel rooms? When you compare a villa's price tag to an equal number of hotel rooms, then these bargains really start to shine. This is something you should really think through when renting a villa or hotel.
Mini-Bars vs. your own Fridge. Hotel mini-bars are perhaps one of the greatest nightmares for all travelers. Who can resist opening a can of soda – or worse – when the urge hits you? In a villa, your provisioning can include all of your favorite drinks, and you pay the local grocery market price, no extra zeroes added!
Breakfast. How many times do you sleep in your vacation – horrors! – only to find out that breakfast is no longer served? You can't even get a cup of coffee without hitting the pricy hotel bar. In a villa, that morning coffee is ready when you want it to be, with cream, milk or maybe low-fat … it's your fridge, you decide.
Pool-side drinks. If your mini-bar prices scared you, imagine what you will be thinking after a day beside the pool. At your private villa pool, you can have a cooler of beer or make your own cocktails, the way you like 'em.
Lunch and dinner. Hotel restaurants are notoriously expensive, and your meals are coming from a massive commercial kitchen. Eating out can be even more expensive. When you stay at a villa, you have your own kitchen, can eat the meals you planned on the schedule you want. You can even hire a private chef and STILL save big compared with eating out.
Of course, before you travel, make sure you know what is included in the price you've been quoted, and what will cost extra. There are some small details to be careful when renting a villa. For example, most villas in Bali include electricity costs in their prices, while in Thailand this cost is typically extra. In Pattaya, many villas include access to a rental car, which comes in handy for everything from provisioning to daily trips to the beach. Villas typically include all taxes and fees in the asking price, all to make their guests feel at home – for a bargain!